Horseback Riding in Aspen, CO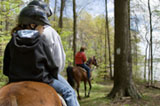 Horseback riding in Aspen can be a fun adventure for everyone! Whether you're a youthful athlete wanting to play cowboy for a day, an adult who prefers accessing the scenic views without walking, or an adventure-seeker looking for an enjoyable backcountry vacation, you'll meet that need here.
There are several outfitters in Aspen, all waiting to cater to what you're looking for. Some specialize in family trips, offering cookouts, wagon rides, and other add-ons. Others specialize in advanced or multi-day backcountry riding trips. You can even rent a pony and walk your little one around Aspen for an hour or two.
Preparing for your trip is important. Long pants, closed-toe shoes, sunglasses, and sunscreen are a must. And be sure to bring your camera! Your outfitter can provide helmets and any other safety essentials you may need. Horseback riding is a fun and convenient way to explore the gorgeous, often difficult, terrain surrounding Aspen. Whether you want to ride around town, or be carried up a trail to enjoy a panoramic vista, you can find it in Aspen. So grab a horse and experience Colorado history!